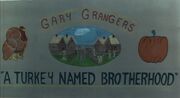 "A Turkey Named Brotherhood" was the name of a Thanksgiving play written and directed by Gary Granger and performed at Camp Chippewa, until Wednesday Addams rebelled...
Wednesday said the work was puerile and underdramatized, and lacked any sense of structure, character, or the Aristotelian unities.
Cast
Songs
"Eat Me" performed by the Turkey and ensemble
Appearances
The feature film:
Ad blocker interference detected!
Wikia is a free-to-use site that makes money from advertising. We have a modified experience for viewers using ad blockers

Wikia is not accessible if you've made further modifications. Remove the custom ad blocker rule(s) and the page will load as expected.