Addams Family Wiki is a collaborative website about The Addams Family and it's creator, Charles Addams. The wiki format allows anyone to create or edit any article, so we can all work together to create a comprehensive database for Addams fans. Check out the FAQ to help you get started!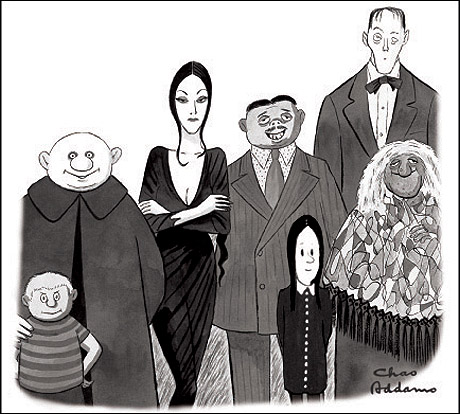 "Gomez and Pugsley are enthusiastic. Morticia is even in disposition, muted, witty, sometimes deadly. Grandmama is foolishly good-natured. Wednesday is her mother's daughter. A closely knit family, the real head being Morticia—although each of the others is a definite character—except for Grandma, who is easily led. Many of the troubles they have as a family are due to Grandma's fumbling, weak character. The house is a wreck, of course, but this is a house-proud family just the same and every trap door is in good repair. Money is no problem."
-Charles Addams, The Addams Family Evilution.
Poll of the Month
What is your favourite iteration of The Addams Family?
User Blogs
I'm not one to be "gunning for achievements", but I do like to track my progress and maintain discipline by making daily contributions to my fave wikis (like this one!), but it is incredibly frustrat…

Read more >

I never much cared for the animated versions of the Addams Family; animation makes being weird too easy; it's the interaction of live actors and good script that makes the Addams experience truly wor…

Read more >

We're now linked to a sister site, The Munsters Wiki!

I hope you'll check out that wiki as well and we'll get some good cross-pollination going! --Scott Lukas Williams 23:41, May 5, 2012 (UTC)

Read more >
Visit our Sister Site
Live Newsfeed
<center>REFRESH

Loading RSS data...