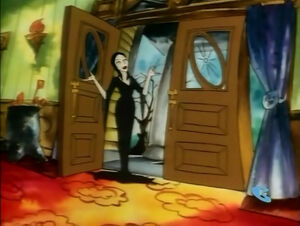 Aunt Stiffy is a relative of The Addams Family.
When Morticia goes to the funeral parlor to preview next year's caskets to replace the one in the bedroom, Gomez says Aunt Stiffy will appreciate it.[1] She found a new resting place in Gomez' luggage; she never could pass up an empty pine box.[2]
Mentioned In
The Addams Family 1992 animated episodes:
Gallery
References
Ad blocker interference detected!
Wikia is a free-to-use site that makes money from advertising. We have a modified experience for viewers using ad blockers

Wikia is not accessible if you've made further modifications. Remove the custom ad blocker rule(s) and the page will load as expected.