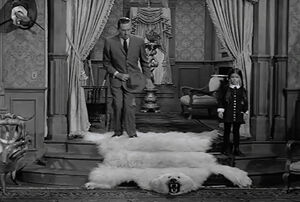 Bruno is The Addams Family's polar-bearskin rug.
He often growls at people who walk on him.
Appearances
Though he appears in most episodes as mere decoration, he is given more screen time in:
The Addams Family original series episodes:
The feature film:
The New Addams Family episodes:
Mentioned In
The Addams Family 1973 animated episode:
Gallery
Ad blocker interference detected!
Wikia is a free-to-use site that makes money from advertising. We have a modified experience for viewers using ad blockers

Wikia is not accessible if you've made further modifications. Remove the custom ad blocker rule(s) and the page will load as expected.