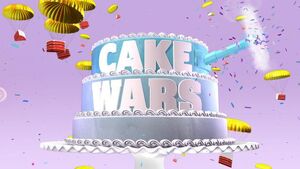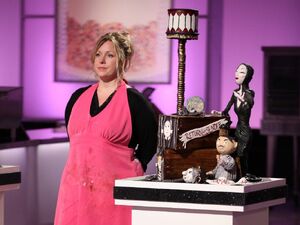 Cake Wars is a television competition program on the Food Network. Teams of contestants compete to bake and design cakes using given ingredients and themes.
Ookiness
Episode 47, which first aired 10 October 2016, had the contestants bake The Addams Family-themed cakes to celebrate eighty years of Charles Addams cartoons. Several of his cartoons from The New Yorker were shown as the contestants described these inspirations for their ideas.
In the first round, two teams made Thing cakes, one made Gomez, and one made Morticia. In the second round, the three remaining teams each made much larger cake displays featuring many characters.
Kevin Miserocchi, director of the Tee and Charles Addams Foundation, was a guest judge on this episode.
Ad blocker interference detected!
Wikia is a free-to-use site that makes money from advertising. We have a modified experience for viewers using ad blockers

Wikia is not accessible if you've made further modifications. Remove the custom ad blocker rule(s) and the page will load as expected.