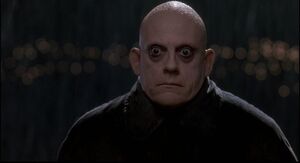 Christopher Allen Lloyd (born 22 October 1938) is an American actor. He is best known for his roles as Reverend Jim on Taxi and Doc Brown in the Back to the Future movies.
Ookiness
He played Uncle Fester/Gordon Craven in The Addams Family (1991). He reprised his role as Fester in Addams Family Values (1993).
Other Significant Roles
Taber in One Flew Over the Cuckoo's Nest (1975)
Steve Chaffey in Three Warriors (1977)
Deputy Towfield in Goin' South (1978)
Frognose in The lady in Red (1979)
The Salesman in The Postman Always Rings Twice (1981)
Paul in American Playhouse (1982)
Larry in Mr. Mom (1983)
Reverend Jim Lgnatowski in Taxi (1983)
Coach Hindenberg in Joy of Sex (1984)
Emmett L. Brown in Back to The Future (1985)
James "Jim" Martin in Bialy Smok (1987)
Judge Doom in Who Framed Roger Rabbit (1988)
Henry Sikorsky in The Dream Team (1989)
The Voice of Merlock in DuckTales The Movie: Treasure of the Lost Lamp (1990)
Ad blocker interference detected!
Wikia is a free-to-use site that makes money from advertising. We have a modified experience for viewers using ad blockers

Wikia is not accessible if you've made further modifications. Remove the custom ad blocker rule(s) and the page will load as expected.