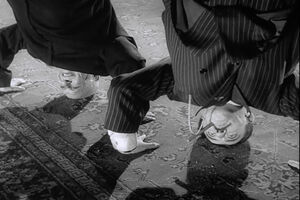 Not to be confused with Grandpa Blob
Cousin Blob is a deceased relative of the Addams Family.
He was "deathly afraid of ghosts - now he's one himself," said Gomez. Morticia thinks she hears him in the attic on dark, stormy nights, but that's really Grandma Squint.[1]
As Grandpa Squint used to say about him, "Two heads are better than one."[2]
Mentioned In
The Addams Family original series episodes:
References
Ad blocker interference detected!
Wikia is a free-to-use site that makes money from advertising. We have a modified experience for viewers using ad blockers

Wikia is not accessible if you've made further modifications. Remove the custom ad blocker rule(s) and the page will load as expected.