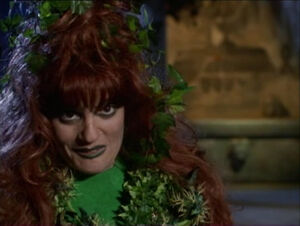 Cousin Fern is a relative of The Addams Family.
She is the family plant doctor. She is part plant and can sprout flowers from her head. When she heard Cleopatra was sick she pulled up her roots and came right over. They hadn't seen her since last fall, when her leaves were turning.
Appearances
The New Addams Family episode:
Background
Cousin Fern is played by Felicia Shulman.
Ad blocker interference detected!
Wikia is a free-to-use site that makes money from advertising. We have a modified experience for viewers using ad blockers

Wikia is not accessible if you've made further modifications. Remove the custom ad blocker rule(s) and the page will load as expected.