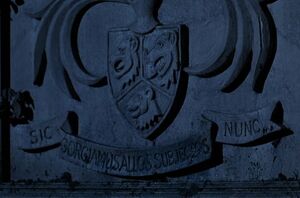 The credo of The Addams Family is "Sic Gorgiamus Allos Subjectatos Nunc" or "We Gladly Feast on Those Who Would Subdue Us."
The credo is carved on the tombstone of Mother and Father Addams in the cemetery beside The Addams Family Mansion. Morticia Addams tells Uncle Fester these are "not just pretty words."
Mentioned In
The feature film:
It is also painted on the table of The Addams Family pinball game.
Ad blocker interference detected!
Wikia is a free-to-use site that makes money from advertising. We have a modified experience for viewers using ad blockers

Wikia is not accessible if you've made further modifications. Remove the custom ad blocker rule(s) and the page will load as expected.