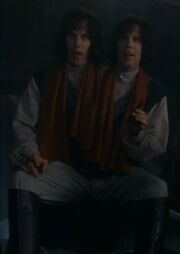 Dexter is a relative of The Addams Family.
He is the conjoined twin of Donald. They were guests at Uncle Fester's welcome home party, and at his bachelor party when he married Debbie Jellinsky.
Appearances
The feature films:
Background
Ad blocker interference detected!
Wikia is a free-to-use site that makes money from advertising. We have a modified experience for viewers using ad blockers

Wikia is not accessible if you've made further modifications. Remove the custom ad blocker rule(s) and the page will load as expected.