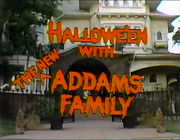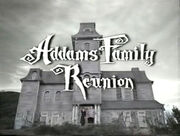 There have been four films adapted from The Addams Family:
Halloween with the New Addams Family (1977)
A television reunion movie, Halloween with the New Addams Family, aired on NBC Sunday, October 30, 1977. It featured most of the cast of the original television series, except Blossom Rock, who was very ill at the time.
The Addams Family (1991)
In 1991, Orion Pictures developed a film version of The Addams Family.
Addams Family Values (1993)
Upon the previous film's success, a sequel followed: Addams Family Values. Loosened content restrictions allowed the films to use far more grotesque humor that strove to keep the original spirit of the Addams cartoons. In fact, several gags were lifted straight from the single panel cartoons. The two movies used the same cast, except for Grandmama, played by Judith Malina in the first film and Carol Kane in the second.
Addams Family Reunion (1998)
Another film, Addams Family Reunion, was released direct-to-video on September 22, 1998. It has no relation to the Paramount movies, being in fact a full-length pilot for a second live-action television version, The New Addams Family, produced and shot in Canada. The third movie's Gomez, played by Tim Curry, follows the style of Raúl Juliá, while the new sitcom's Gomez, played by Glenn Taranto, is played in the style of John Astin, who had played the character in the 1960s.
Ad blocker interference detected!
Wikia is a free-to-use site that makes money from advertising. We have a modified experience for viewers using ad blockers

Wikia is not accessible if you've made further modifications. Remove the custom ad blocker rule(s) and the page will load as expected.