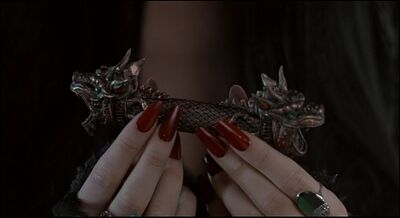 This Fingertrap was from the court of Emperor Wu.
It is encrusted with rubies and fifteen emerald chips. Morticia donated it to a charity auction that Margaret Alford was organizing. Later, at the auction, Morticia and Gomez bid against each other on the fingertrap eventually winning it back for $50,000.
The fingertrap had originally been a party favor at Uncle Fester's tenth birthday. He wore it for two years so his mother had to teach him how to eat with his feet.
Appearances
Ad blocker interference detected!
Wikia is a free-to-use site that makes money from advertising. We have a modified experience for viewers using ad blockers

Wikia is not accessible if you've made further modifications. Remove the custom ad blocker rule(s) and the page will load as expected.