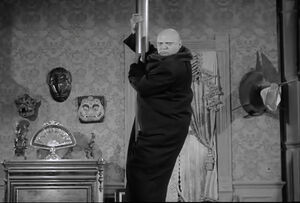 The Fireman's Pole is a pole installed between floors of a building for quick descent.
The Addams Family installed one in their house at some point between the events of "The Winning of Morticia Addams" and "My Fair Cousin Itt." It is located between the Grandfather Moose Clock and Cousin Farouk.
Most of the main characters have used it to come down to the Living Room, and some have used it to go back up.
Appearances
Though seen as mere decoration in many episodes, the pole is used in these The Addams Family original series episodes:
Gallery
Ad blocker interference detected!
Wikia is a free-to-use site that makes money from advertising. We have a modified experience for viewers using ad blockers

Wikia is not accessible if you've made further modifications. Remove the custom ad blocker rule(s) and the page will load as expected.