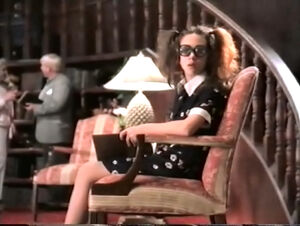 Gina Adams is a girl with whom Pugsley becomes smitten.
Pugsley was captivated when he saw her across a crowded room at their supposed family reunion in The Primrose Resort. She joined him and Wednesday in all sorts of activities, including digging up the deceased founders of the resort.
Appearances
The direct-to-video film:
Background
Gina was portrayed by Hailey Duff.
She spoke no lines in the film, but she may not be mute because some scenes show Pugsley responding as if she had just spoken.
Ad blocker interference detected!
Wikia is a free-to-use site that makes money from advertising. We have a modified experience for viewers using ad blockers

Wikia is not accessible if you've made further modifications. Remove the custom ad blocker rule(s) and the page will load as expected.