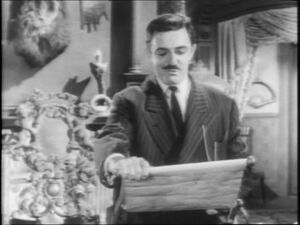 Halloween is a very important holiday for The Addams Family.
Original Series
In the episode "Halloween with the Addams Family", Gomez carves Uncle Fester's likeness into a jack o'lantern. The children dress up and go trick-or-treating. Gomez reads the Halloween poem. The adults bob for the crab.
Halloween with the New Addams Family
In the 1977 special Halloween with the New Addams Family, they treat it like Christmas. In the day, they prepare for the party, and when night comes, the party starts. Later at night, after witching hour (in which Hester Frump, Morticia's mother, flies out to the skies), the Addams Family sing a song and walk upstairs to the tower carrying candles, and go to the Halloween Scarecrow (which is the Addams Family's version of a Christmas tree) to wait for Cousin Shy to leave gifts for everyone.
Ad blocker interference detected!
Wikia is a free-to-use site that makes money from advertising. We have a modified experience for viewers using ad blockers

Wikia is not accessible if you've made further modifications. Remove the custom ad blocker rule(s) and the page will load as expected.