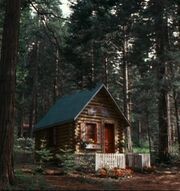 The Harmony Hut was a small cabin at Camp Chippewa.
It was filled with posters of babies with inspirational messages, stuffed animals and an appallingly complete video library of happy, cheery feel-good children's movies.
Gary Granger and Becky Martin-Granger forced Wednesday, Pugsley and Joel Glicker to spend time there watching The Sound of Music and animated Disney films when they refused to participate in camp activities.
Appearances
Ad blocker interference detected!
Wikia is a free-to-use site that makes money from advertising. We have a modified experience for viewers using ad blockers

Wikia is not accessible if you've made further modifications. Remove the custom ad blocker rule(s) and the page will load as expected.