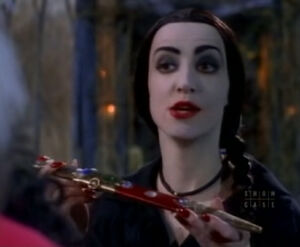 Lady Penelope Addams, alias The Dread Pirate Sylvia, was Gomez's great-great-great-great-great-grandmother.
She was a pirate and secured the family fortune. She wanted to marry a pirate who could best her, but could not find one, so she married Long John Addams.
Appearances
The New Addams Family episode:
Gallery
Background
She was portrayed by Ellie Harvie, who also starred as Morticia Addams.
Ad blocker interference detected!
Wikia is a free-to-use site that makes money from advertising. We have a modified experience for viewers using ad blockers

Wikia is not accessible if you've made further modifications. Remove the custom ad blocker rule(s) and the page will load as expected.