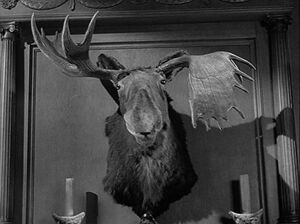 Pierre is The Addams Family's stuffed moose head.
He hangs above the fireplace on the living room wall in The Addams Family Mansion. His left antler is pointed downward while the right is up, but they occasionally move, waving at people. His hind quarters are also stuffed and made into a Grandfather Moose Clock so the tail switches on the half-hour and goes all the way around on the hour. This clock is mounted directly across from Pierre so that he can see himself as the world sees him.[1]
He was first called by name in The New Neighbors Meet the Addams Family. In this episode he is moved briefly next door as a gift to the neighbors, but is returned by the end of the episode.[2]
While playing golf off Gomez' forehead, Morticia hit a hole-in-one into Pierre's mouth. Gomez followed up with a club-in-one.[3]
Appearances
Though he appears in most episodes as mere decoration, he is given more screen time in The Addams Family original series episodes:
Gallery
References
Ad blocker interference detected!
Wikia is a free-to-use site that makes money from advertising. We have a modified experience for viewers using ad blockers

Wikia is not accessible if you've made further modifications. Remove the custom ad blocker rule(s) and the page will load as expected.