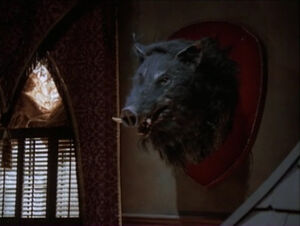 Snuffles is the warthog mounted on the living room wall in The Addams Family Mansion.
He occasionally squeals and moves his mouth, eyes, and ears.
Background
Appearances
Though he appears in most episodes as mere decoration, he is given more screen time in The New Addams Family episodes:
Gallery
Ad blocker interference detected!
Wikia is a free-to-use site that makes money from advertising. We have a modified experience for viewers using ad blockers

Wikia is not accessible if you've made further modifications. Remove the custom ad blocker rule(s) and the page will load as expected.