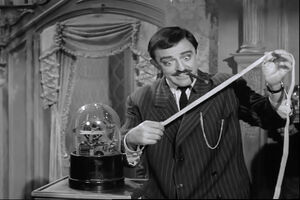 The Stock Ticker transmits stock market info over telegraph lines.
Gomez Addams owns his own stock ticker and frequently consults it to track his investments in various ooky corporations.
Appearances
Though it appears in most episodes as mere decoration, Gomez consults it in The Addams Family original series episodes:
Gallery
Ad blocker interference detected!
Wikia is a free-to-use site that makes money from advertising. We have a modified experience for viewers using ad blockers

Wikia is not accessible if you've made further modifications. Remove the custom ad blocker rule(s) and the page will load as expected.