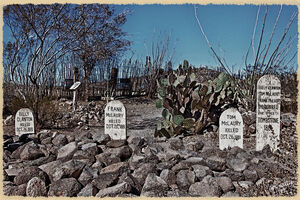 Tombstone is a town in Arizona famous for the Old West Gunfight at the OK Corral.
Ookiness
Morticia Addams suggests it would be a fun place to vacation.[1] While on a vacation out West, The Addams Family are mistaken for cattle rustlers from Tombstone.[2] One Halloween, Gomez Addams has to leave the family festivities to attend a lodge meeting there.[3]
Mentioned In
The Addams Family original series episode:
The Addams Family 1973 animated episode:
The television special:
References
Ad blocker interference detected!
Wikia is a free-to-use site that makes money from advertising. We have a modified experience for viewers using ad blockers

Wikia is not accessible if you've made further modifications. Remove the custom ad blocker rule(s) and the page will load as expected.