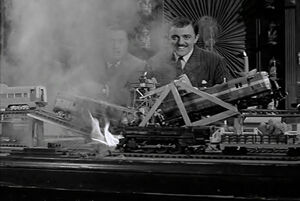 "Why else would a grown man play with trains?"
-Gomez Addams
Trainwreck is Gomez Addams' favorite pastime.
He loves to blow up the bridge just as the trains approach it, but will usually offer the dynamite plunger to visitors or other family members.
Trivia
Appearances
The Addams Family original series episodes:
The feature film:
The Addams Family 1992 animated episode:
The New Addams Family episodes:
Gallery
Ad blocker interference detected!
Wikia is a free-to-use site that makes money from advertising. We have a modified experience for viewers using ad blockers

Wikia is not accessible if you've made further modifications. Remove the custom ad blocker rule(s) and the page will load as expected.