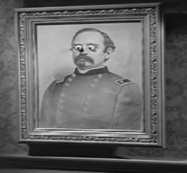 Not to be confused with Cousin Droop or Grandpa Droop.
Uncle Droop is a deceased relative of The Addams Family.
He was married to Aunt Drip. His urn is placed in the front of Aunt Drip's portrait in the living room,[1] while his portrait (actually two of them and one of Aunt Drip) guards the Addams family safe.[2]
A nearly identical portrait in Uncle Fester's Bedroom is identified as General Ulysses S. Addams.[3]
Mentioned In
The Addams Family original series episodes:
Gallery
References
Ad blocker interference detected!
Wikia is a free-to-use site that makes money from advertising. We have a modified experience for viewers using ad blockers

Wikia is not accessible if you've made further modifications. Remove the custom ad blocker rule(s) and the page will load as expected.