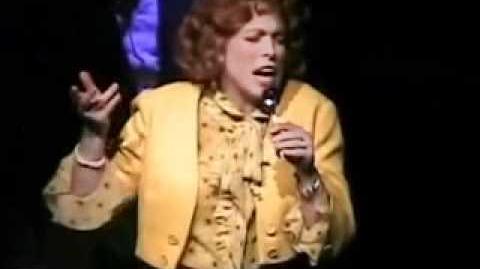 Waiting is a song from The Addams Family: A New Musical.
Lyrics
Alice:
Ah, ah, ah, ah, ah, ah, ah, ah
Ah, ah, ah, ah, ah, ah, ah, ah

A woman waits for marriage
A woman waits for children
She waits for her big Mal to come back home
At five o'clock
Or six o'clock
'Til it's nine o'clock
And there's no o'clock to ease the pain
Pain she can't explain

As the woman waits in the dark
For a spark that once was there
That isn't there, not ever there!
Alone and
Waiting and wailing
Whining and waning
Wanting and wasting and woe

Waiting, fixating
Debating, lose weighting
Ice skating, lacating- and so

We wait to laugh
We wait to cry
We wait for every hopeful breath
Waiting for a lousy, rotting,
Vicious, rancid, fetid,
Frenzied, fatal death
Ad blocker interference detected!
Wikia is a free-to-use site that makes money from advertising. We have a modified experience for viewers using ad blockers

Wikia is not accessible if you've made further modifications. Remove the custom ad blocker rule(s) and the page will load as expected.