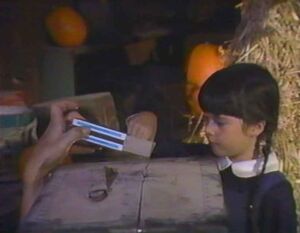 Wednesday Jr. Addams is a daughter of Morticia and Gomez Addams.
She is the younger sister of Wednesday, Pugsley and Puglsey Jr. It is unclear whether she is older or younger than Pubert since they never appear together.
Personality and Looks
Wednesday Jr. looks just like her older sister Wednesday, and they share the same personality too.
Appearances
Her only appearance is in the Halloween special, Halloween with the New Addams Family.
Ad blocker interference detected!
Wikia is a free-to-use site that makes money from advertising. We have a modified experience for viewers using ad blockers

Wikia is not accessible if you've made further modifications. Remove the custom ad blocker rule(s) and the page will load as expected.